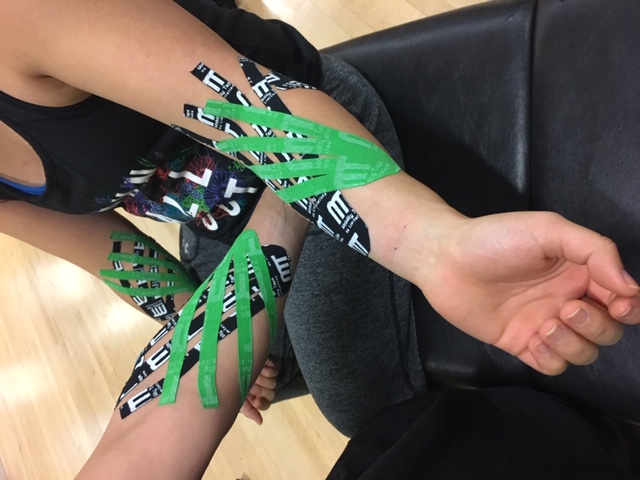 Par: Kathie Sharkey R.Kin et Amanda Tankovich (étudiante en troisième année de Guelph Humber)
L'utilisation de bande de kinésiologie est un sujet populaire et il y a beaucoup d'informations mais il est important d'examiner les études cliniques et de déterminer si l'utilisation de cet outil est appropriée pour vous et vos clients. J'ai suivi un cours en 2011 et j'aime bien utiliser la bande magnétique pour aider mes clients. J'utilise régulièrement le ruban pour des tâches courantes telles que la réinitialisation et l'alignement de la posture, la stabilisation des genoux et différents problèmes de douleur. (texte en anglais)
What Kinesiologists need to know about Kinesiology Tape?
BY: Kathie Sharkey R.Kin and Amanda Tankovich (Guelph Humber 3rd year student)
Kinesiology tape has been a popular topic lately and there is a lot of information but looking at the clinical studies and evaluating if using this tool is appropriate for you and your clients is important. I took a course back in 2011 and I like having tape as tool I can use to help my clients. I consistently use the tape for common things like posture resetting and alignment, stabilizing knees, and for different pain issues.
Kathie applying tape at a kinesiology week event.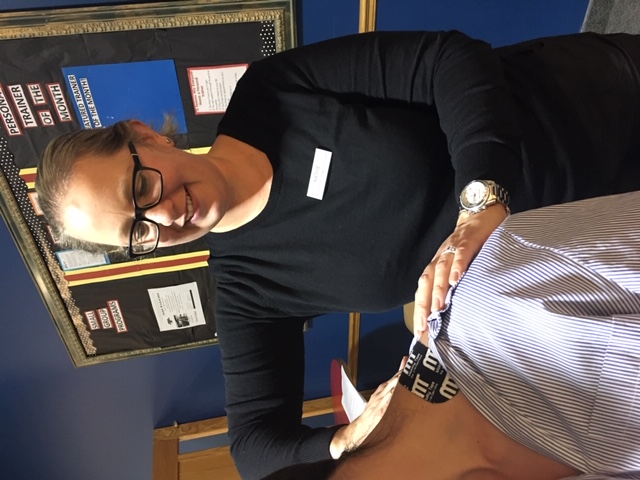 I've heard from other Kinesiologists and other health care professionals that they want to learn more about tape and if it is in our scope of practice. I looked into the scope of practice for Ontario because this is where I work. I`ve also had questions about the scope of using analgesics like menthol and camphor. Using an analgesic or heated tape is not a controlled act so we are permitted to use it providing we follow sound practice. The resource that gives us the best information is the College of Kinesiologists of Ontario Core Competencies. If you want to use tape (or any other tool) you must ensure that you have taken proper training. Taking a course will give you knowledge you need decide if using the tape is indicated or contradicted. The core competencies clearly state that the Kinesiologist must obtain the required knowledge, skill and authorization to perform the procedure. In addition, the Kinesiologist must communicate to their clients the potential risks, contraindications, proposed benefits, alternative treatments and obtain consent before taping or using an analgesic, or both. (Essential Competencies of Practice for Kinesiologists in Ontario, 2014. Competencies 2.7, 2.9, 3.5)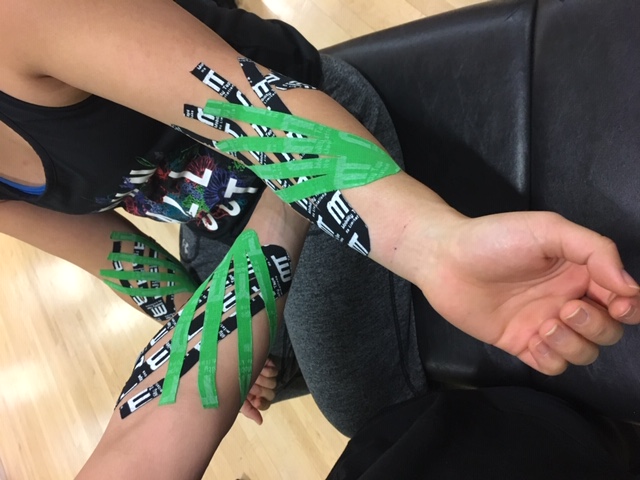 Are you interested in learning more about kinesiology tape? I knew your answer would be - yes! I asked my intern Amanda (from the Guelph Humber Kin program) to do some research for us which you can read below. Thanks Amanda for putting this great info together for us!
History
Kinesiology Taping was developed in the 1970's, and over the last couple decades, this method has evolved greatly. It is a common treatment for athletes, physicians, and the general population. Many trainers and coaches have used various techniques of tape to treat injuries, provide protection, and support joints or muscle during movement. Kinesiology Taping has been a functional component in sport and physical rehabilitation. Areas that have used kinesiology tape as a treatment method include cerebral palsy, degenerative neuro-muscular disorders, multiple sclerosis, post mastectomy, and post stroke recovery (Mobility Therapeutic Tape Course Material, 2017).
Background
So how exactly does Kinesiology tape work? When an injury occurs, trauma causes blood to build up which exerts pressure on pain receptors under the skin. The elasticity in the kinesiology tape gently lifts the skin, creating a microscopic space between the skin and the tissues below. This allows the lymphatic vessels to open and drain excess fluid which will reduce the pressure on the pain receptors. Kinesiology taping is an alternative to athletic taping to support the fascia, muscles, and joints. Unlike stiff athletic tape, Kinesiology tape allows for unrestricted range of motion and is designed to mimic the approximate thickness and weight of skin (Mostafavifar, 2012).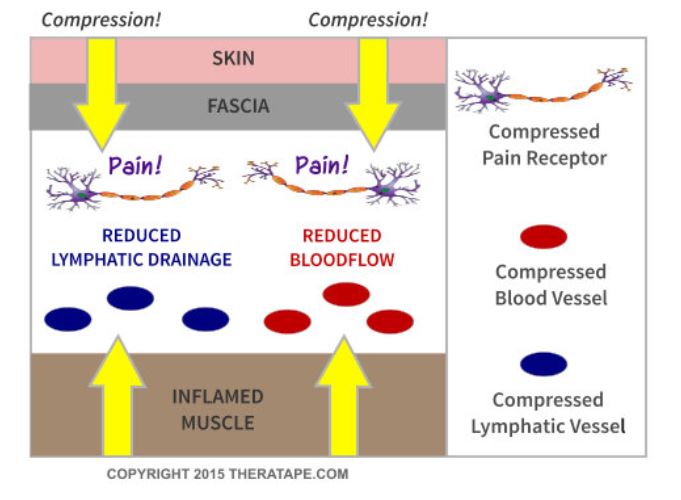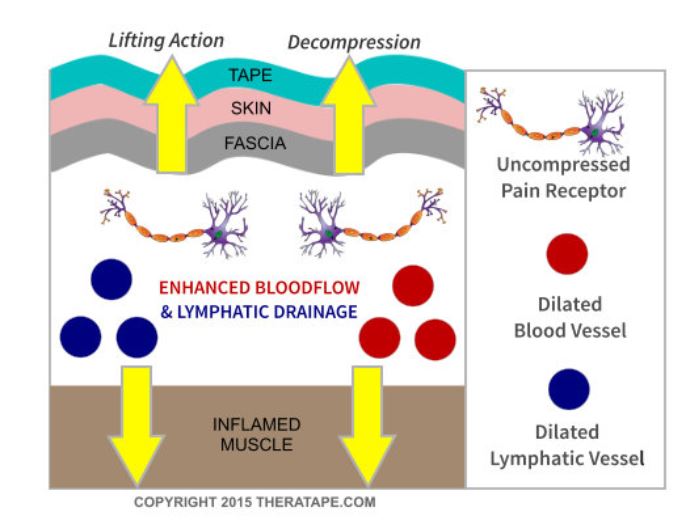 Figure 1: Injury without Kinesiology Tape Figure 2: Injury with Kinesiology Tape
(Photos retrieved from Theratape.com)
Principles
The proposed benefits include:
Decreasing the sensation of pain by reducing pressure on peripheral nociceptors
Improving the circulation of blood and lymph fluid by increasing the space between the skin and tissue
Improving joint and muscle realignment by supporting weakened muscles
Provide musculoskeletal support without restricting range of motion
Contraindications of using kinesiology tape (with or without active ingredients):
Clients with cancer undergoing treatment
Never apply tape to the abdomen of a pregnant woman
Never apply tape over an open wound, rash or burn
Clients with latex allergies
Risks of using Kinesiology tape include irritation and a rash.
Take precautions with tape. There are certain people who may not be good candidates for taping;
Clients with sensitive skin
Clients with poor venous or arterial circulation
Bleeding disorders
It is always a good idea to do a 24 hour test patch on the skin of a client who is concerned they might be sensitive to the tape, adhesive, or the active ingredients. Proper application of the tape reduces irritation.
Taping Products
2 main types: traditional athletic tape and kinesiology tape
Traditional athletic tape uses:
Restrict the motion of an injured joint
Compress soft tissues to reduce swelling
Support the anatomical structure involved
Protect the injured joint from re-injury while healing
Why traditional athletic tape is not always optimal:
Thick and non-elastic
Can retain moisture for extended periods of time, which can cause localized skin irritation
Applied tightly around the affected area in overlapping layers until the area is immobilized; this compression reduces circulation of both blood and lymphatic fluid to the injured area
Prolonged application can lead to further injury due to diminished circulation
Applied before an activity and removed immediately following its completion
Kinesiology tape:
Can stretch up to 100% of its length
Used before, during and after exercise
The flexibility allows it to remain applied to the area for several days, without impeding the circulation of blood and lymphatic fluid
The area is not immobilized which promotes a safe range of motion
Kinesiology tape with active ingredients
This tape is used the same way you would use kinesiology tape, but there are additional ingredients in the adhesive. The active ingredients typically induce the feeling of heat (some people feel a cooling sensation). The heat is produced by camphor and menthol which are the two active agents in the tape. The body has pain sensing ion channels known as TRP – transient receptor potential. Menthol and camphor are proven to inactivate the TRPA1 ion channels, decreasing the sensation of pain (Macpherson, 2006).
The proposed benefits kinesiology tape with active ingredients:
Heat dilates arterioles, venules and capillaries
Heat effectively increases blood flow and circulation
Increased blood flow allows muscles to relax, increasing range of motion and flexibility to the muscle, tendons and ligaments (Mobility tape, 2019)
When to use tape with active ingredients vs regular kinesiology tape:
Tape with active ingredients may be indicated for:
- Acute Injuries
- Chronic Muscle Pain
- Joint Irritation
- Osteoarthritis
Regular kinesiology tape may be indicated for:
- Promotion of Lymphatic Drainage
- Ligament Stabilization
- Chronic Joint Injury
Research
The clinical significance of Kinesiology tape is being investigated and a lot of research is being done. Many of these studies concentrate on the pain relieving effects of kinesiology tape. A few clinical trials have been summarized below.
Kinesio taping compared to physical therapy modalities for the treatment of shoulder impingement syndrome (Kaya, 2010)
In 2010, Kaya and team completed a study comparing the short-term effects of therapeutic kinesiology tape application on reducing pain and disability in patients with shoulder impingement syndrome compared to common physical therapy modalities. The goal of the tape was to alter the scapular muscle activity and to correct abnormal scapular position. 55 patients were split into 2 groups and treated for 2 weeks. The first group of 30 patients were treated with the kinesiology tape in addition to a home exercise program (isometric exercises, range of motion, strengthening, and stretching. The tape was applied to three muscles: supraspinatus, deltoid, and teres minor. The second group of 25 patients completed a daily program of physical therapy modalities (ultrasound, TENS, hot pack) in addition to the same home exercise program.
Measures were obtained at baseline and after the 2 weeks. Outcomes measured with the Disability of Arm, Shoulder, and Hand scale (questionnaire) and a 100-mm visual analog scale used to asses function and pain at night, rest, and movement.
The results showed that rest, night, and movement pain scores were significantly lower in the Kinesiology taping group compared to the physical therapy group. The Kinesiology taping has been found to be more effective than the local modalities and may be an alternative treatment option of shoulder impingement syndrome especially when an immediate effect is needed.
The effect of Kinesio Taping on Handgrip Strength (Lemos, 2015)
Lemos and team conducted a study in 2015 to evaluate the change in muscle function induced by a kinesiology tape application with no or moderate tension, to the dominant and non-dominant arms. They were looking to see if the stretch applied to the tape would create tension in the skin to improve communication with mechanoreceptors and increases the number of motor units recruited during a muscle contraction of grip strength.
75 women aged 18-30 years old were divided into 3 groups: 1) Kinesiology tape applied with 25-35% tension 2) Kinesiology tape applied with no longitudinal stretch and 3) control group with no taping techniques. The grip strength was measured by a hand dynamometer and was assessed before the taping, after 30 min, 24 hours, and 48 hours.
The first group that had the tape applied with tension, is the only group that presented an increase in the average values of each of the assessment times.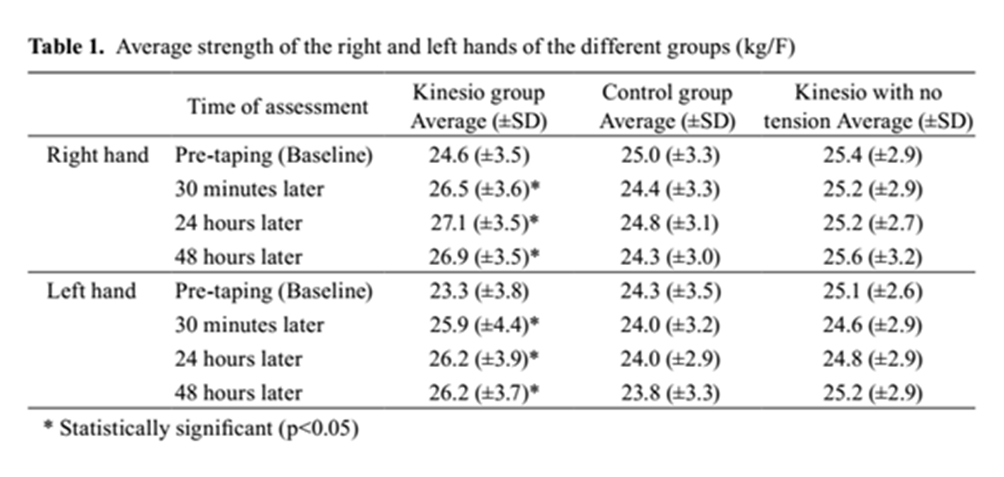 Table 1: Results table from Lemos study showing the average strength of the right and left hands in all three groups
Kinesio Taping reduces disability and pain slightly in chronic non-specific low back pain: a randomised trial (Castro-Sanchez, 2012)
A Randomised control trial was conducted in 2012 by Castro-Sanchez and team. They understood that chronic low back pain produces mobility restriction, long-term disability, and quality of life impairment and they wanted to see if Kinesiology taping could improve these conditions. 60 adults with chronic non-specific low back pain were randomly split into two groups. 30 people placed in the intervention group were treated with Kinesiology tape over the lumbar spine for one week. The other 30 people in the control group were treated with sham taping for one week.
Measurements were taken at baseline, immediately after the one week intervention, and 4 weeks later. They tested using the Oswestry disability index, Roland-Morris low back pain questionnaire, pain on a 10-cm visual analogue scale, and the McQuade test of trunk muscle endurance. Results showed that at one week, the intervention group had significantly greater improvement in disability, by 4 points on the Oswestry score and by 1.2 points on the Roland-Morris score. The intervention group also had a greater decrease in pain than the control group immediately after treatment, which was maintained four weeks later.
Castro-Sanchez and team concluded that the Kinesiology tape reduced disability and pain in people with chronic non-specific low back pain. The effects of Kinesiology tape in this study were small, however, the intervention is quick to apply, and does not require ongoing commitment of time and effort. Seeing that the costs and inconvenience involved are small and there is a small reduction in pain; the taping may be worthwhile overall.
The research for Kinesiology tape is ongoing but there needs to be more in order to determine the substantiated benefits.
Final thoughts from Kathie
Numerous studies have been concluded that take a look at the uses for kinesiology taping and right now the messages are mixed. Some studies show clinical significance of using the tape; others show more research needs to be done. When you choose to use a tool make sure you understand the benefits and risks and evaluate the best option(s) for your clients. Communicate to your clients what the tape is, how it's used and most importantly, obtain consent from your client that you can apply the tape. Follow up with your clients at their next visit to ensure there were no issues and see if the intention of the application was achieved.
References
Castro-Sanchez, A. M., Lara-Palomo, I.C., Mataran-Penarrocha, G.A., Fernandez-Sanchez, M., Sanchez-Labraca, N., & Arroyo-Morale, M. (2012). Kinesio Taping reduces disability and pain slightly in chronic non-specific low back pain: a randomised trial. Journal of Physiotheraphy, 58, 89-95.
"How Does Kinesiology Tape Work." TheraTape Education Center, 2019, www.theratape.com/education-center/how-does-kinesiology-tape-work/.
Essential Competencies of Practice for Kinesiologists in Ontario, 2014 . College of Kinesiologists of Ontario.
Kaya, E., Zinnuroglu, M., & Tugcu, I. (2010). Kinesio taping compared to physical therapy modalities for the treatment of shoulder impingement syndrome. Clinical Rheumatology. doi: 10.1007/s10067-010-1475-6
Lemos, T.V., Pereira, K.C., Protassio, C.C., Lucas, L.B., & Matheus, J.P.C. (2015). The effect of Kinesio Taping on handgrip strength. The Society of Physical Therapy Science, 27(3), 567-570.
Macpherson, L.J., Hwang, S.W., Miyamoto, T., Dubin, A.E., Patapoutian, A., & Story. G.M. (2006). More than cool: promiscuous relationships of menthol and other sensory compounds. Mol Cell Neurosci,32 (4), 335-43. doi: 10.1016/j.mcn.2006.05.005
Mobility therapeutic Tape (2019). "The science behind mobility tape" http://mobilitytape.com/about-us/the-science/
Mostafavifar, M., Wertz, J., & Borchers, J. (2012). A Systematic Review of the Effectiveness of Kinesio Taping for Musculoskeletal Injury. The Physician and Sportsmedicine, 40(4), 33-40. doi:10.3810/psm.2012.11.1986
Photo credit – Theratape.com